Friday Box Office: The Bourne Ultimatum On Track To $72M Opening Weekend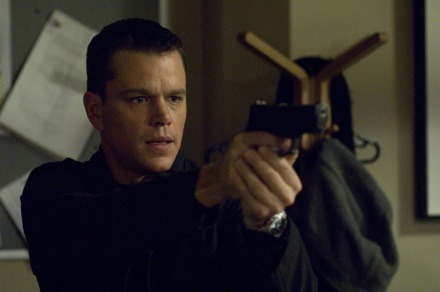 Universal's The Bourne Ultimatum grabbed $25.5M on Friday, which should translate to a staggering $72M opening weekend. That's easily the best opening in the franchise, topping The Bourne Identity's $27.1M and The Bourne Supremacy's $52.5M. This also marks the best opening weekend of Matt Damon's career.
Last week's big winner The Simpsons Movie is taking a larger than expected drop after a meteoric $102.9M in its opening 7 days. The big screen version of Fox's long-running series has added an estimated $8M on Friday, but the animated flick is headed for only $25M or so for the weekend, which is a massive 66% drop from its opening. Disney's Underdog, which wasn't screened for critics, is a surprise third with $4.1M on Friday, and, with a big Saturday and Sunday kiddie bounce, it should have $12.1M banked by Monday morning. I Now Pronounce You Chuck & Larry is a solid 4th with $3.3M today and an estimated $10.6M for the weekend.
Hot Rod and Bratz have both tanked. The Andy Samberg comedy from SNL producer Lorne Michaels stumbled out of the gates with only $2M, and it will manage only a meager $5.1M for the 3-day. Bratz, geared for preteen girls, could only drum up $1.75M to start the weekend, and it will finish the weekend with an estimated $4.4M.
Among limited releases, the Jennifer Lopez-produced El Cantante has a PTA of $1,600 or so, which gives it an estimated $850,000 on 542 screens. This biopic about salsa king Hector Lavoe should finish the weekend with something in the $2.5M range. Also scoring well was Becoming Jane starring Anne Hathaway with an average of just over $3,000 on its 100 screens and an estimated $310,000. This Jane Austen biopic will likely bank about $1.1M during its opening 3-day with an aggressive expansion set for next weekend.
You can read more in-depth box office coverage at FantasyMoguls.com.