Dreamworks To Release Shrek 4 In May 2010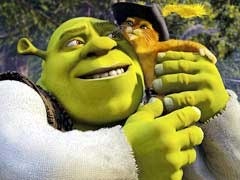 Dreamworks Animation and Paramount have officially announced that they will release Shrek 4 on May 10th 2010, according to Variety. Earlier this year, Dreamworks co-founder Jeffrey Katzenberg has announced that there will be a Shrek 4 and Shrek 5, but THAT IS IT!
"It's a finite story, has been from the beginning and I think that's part of its integrity, part of its strength, that we're not thinking this up as we go," he told The Age. "Ultimately we will come back to understand how Shrek arrived in that swamp. We will reveal his story."
Shrek the Third made over $718.6 million worldwide, which is more than the first film ($484.4m) but not nearly as profitable as Shrek 2 ($920.6m). In addition to the big box office numbers, the Shrek films do extremely well on DVD. So while the series is on a downward turn, it's still one of the most profitable film franchises of 2007 (To be exact: Shrek the Third was the #2 biggest movie of 2007 so far). But many people thought Shrek the Third was the worst film of the bunch, so it will be interesting to see if the series loses a sizable chunk of fanbase when the fourth film is released in 2010. My guess is that it won't, as the brand name is too huge. Parents will buy tickets for the whole family, and Dreamworks Animation will rake in more cash.