George Miller To Direct The Justice League Of America Movie?
Our friend Frosty at Collider is reporting that Happy Feet director George Miller has been asked to direct a live-action big screen version of the Justice League of America for Warner Bros. The source of the information seems to be credible, but I'm amazed to see that Warner Bros is actually pushing th development of the project so early. I always just assumed that a JLA movie would be years off, especially considering that the superhero team features Superman and Batman, two DC characters who still have no trouble selling a movie own their own merit. Logically, I would assume that a JLA movie would be saved for a last resort scenario. Miller is a notable award winning Hollywood veteran. His credits also include Mad Max, The Witches of Eastwick, Twilight Zone: The Movie and Babe.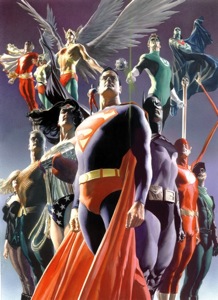 The project was first announced in February 2007. Kiernan and Michele Mulroney were hired to write a big screen Justice League of America movie.
The JLA first appeared in February 1960. The original line-up consists of: Superman, Batman, Wonder Woman, Flash, Green Lantern, Aquaman and the Martian Manhunter. But the team has gown to also include Green Arrow, Atom, Hawkman, Black Canary, Captain Marvel, Plastic Man, Zatanna and others. The Jusice League spawned several cartoon television series, including the cult 1960-70's Super Friends. Justice League Unlimited is currently aired on the Cartoon Network.
The comic books usually have the heroes band together to fight alien forces or groups of supervillains.
It has been previously reported that both Christian Bale (Batman Begins) and Brandon Routh (Superman Returns) have contract options to star in a Superman vs. Batman movie. I's sure that Warner's legal team could spin that stipulation into the JLA project. The studio is also trying to greenlight a Wonder Woman film. I assume that the lead star's contract would also include a JLA option.