Edward Norton Wrote The Incredible Hulk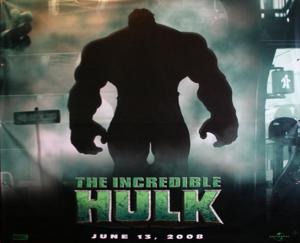 At the Marvel Studios panel at Comic Con 2007, it was revealed that The Incredible Hulk star Edward Norton also wrote the script.
"I came into this and I wrote the screenplay," revealed Norton. "I was the Marvel kid. I had subscriptions to a lot of the marvel comics. I loved Hulk, the early incarnation of Hulk and than the television show when I was a kid."
"And I always felt like it was one of those great contemporary myths. It's almost like out of greek mythology. This suppression of your inner demon," said Norton who also confirmed that this is a brand spanking new Hulk.
"This is a part one, this is the beginning of a whole new Hulk saga," confirmed The Incredible Hulk producer Kevin Feige.
So will the film feature Hulk's origin story?
"If there was something that I wish was done better in these movies it's that I wish they wouldn't rush through that origin," says Norton. "Let's grapple with our own version of the history of the story is, but unspoll it out throughout the film in our own way."
"The fun in this was not to remake anything, but to spin our own fantasy," said Norton. "Re-visioning the story as a mythic story was appealing to me. Hulk has limitless potential to remake it re-conceive it. The idea of this mortal person at war with this thing inside of him and this sort of fugitive aspect of it."
"We have a great character story to tell, in the tradition of the Hunchback of Notredame," said producer Gale Anne Hurd. "We have a Hulk who will not be three different sizes in this movie. I think everyone will be happy about that."
And Edward Norton will be playing both roles.
"Once the Hulk pops out, does that take me out of the picture as an actor. Like Gale eluded, there are a whole bunch of new technologies which allow an actor to interface," said Norton. "The notion of not having these two characters be split, but playing both sides of it."
"Making an effects driven movie is a different thing for me," said Norton. "I've done a lot of low-fi tough characters but I haven't done anything that involves the interface between effects like this does."
"I was a huge fan of the tv show as a kid. Like Edward was saying, there was so much humanity in it," said Liv Tyler who has yet to start filming.
"One of the fun things was to reference some of those different parts of the Marvel Universe," says Norton. Comic book character Leonard Sampson is part of the story.
"Look for a lot of easter eggs and homages," said director Louis Leterrier.
Filming on the project just began so it's clearly too early in the process to show any video clips. But because the film will premiere before next year's comic-con, the studio insisted on flying out to have a presence at this year's con. They did however show one conceptual art photo of a dark green looking Hulk. Yellow eyes, black hair, and a much tighter face than  the Ang Lee version. I'm not sure exactly how to describe it, I'l sure a photo will turn up online. It definitely looks better than the previous incarnations of the character.
Leterrier says the film will be nonstop.
"A regular movie has 150 scenes our movie has 350 scenes," promises Leterrier.