Watchmen Cast List Confirmed/Announced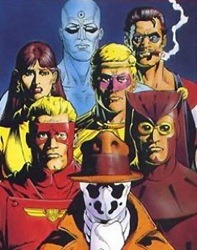 The casting for Zack Snyder's big screen adaptation of Alan Moore's classic graphic novel Watchmen has been confirmed by The Hollywood Reporter. But honestly most of the names on the list have been rumored to be attached to the project for months. Jeffrey Dean Morgan is the only name not in our report from last week.  Morgan will play the Comedian, "a cigar-chomping, gun-toting vigilante-turned-paramilitary agent." Rumored to play the role were Thomas Jane and Ron Pearlman.
Also confirmed: Jackie Earle Haley will play Walter Kovacs aka Rorschach, Billy Crudup will play Dr. Manhattan, Malin Akerman will play Laurie Juspeczyk/the Silk Spectre, Mathew Goode will play Adrian Veidt/Ozymandias, and Patrick Wilson will play the Nite-Owl.
I'm still skeptical as to whether or not Watchman can be turned into a relevant and entertaining film, since most of the ideas and concepts have since been stolen and used in other comic books and films. But if there is anyone who can make this film seem revolutionary it could be Snyder. He has a good list of names to back him up in front of the camera. Shooting is set to begin in Vancouver this Fall.