Did You Know: Hot Rod Was Written For Will Farrell?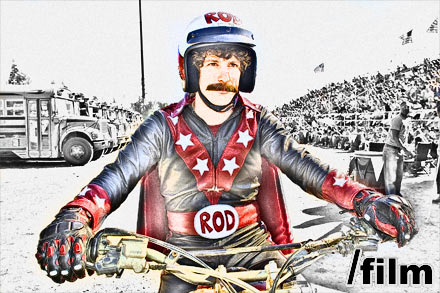 Did You Know: Hot Rod was actually written for Will Farrell? We met with The Lonely Island Boys Andy Samberg, Jorma Taccone, and Akiva Schaffer earlier today and they shared with us the following story:
This woman Pam Brady had written it. She had written for the South Park series, then she co-wrote the South Park movie, co-wrote Team America with Matt and Trey. Before we were even at SNL, she wrote it for Lorne (Michaels) and for Paramount. And then when we got there, they said to Andy, 'Hey Andy why don't you read this and see if it appeals to you.' Then after Lazy Sunday they were like 'The Three of you guys, why don't you read it.' And of course it was just so silly and weird that we were like, 'You're gonna let us make a movie? Of course!'
But she had written it for Will Farrell and it was envisioned as a vehicle for him. And he is an exec producer on it – him and Jimmy Miller. They all put their ideas into it. As a testament as to how well she wrote it, it was very much obviously for Will Farrell. When you read it, you couldn't picture anyone else in the movie but Will Farrell. The lines were specifically things he has kind of made his persona over the years. So if he [Andy Samberg] had just done those lines, it would have been like an impression of Will Farrell. So we had to go through, just to make it work at all, we had to go through and tweak it a lot just to get it to feel like it was ours and his [Andy] and that kind of stuff.
I got to see the movie last week, and was surprised at how much I actually enjoyed it. I've been very vocal about how much I hated the trailer for this flick. I can;t review the film now but I think the quote above is very interesting, so I will say this much. Everything that the Lonely Island guys made their own works. There is some laugh out loud moments, one in particular is the "cool beans" sequence. You'll know it when you see it. I felt that the parts of the film that didn't work were the parts where it seemed more like a Will Farrell movie. I'm very interested to see a movie completely conceived and written by these guys.
Watch out for our whole interview later this week.