D.J. Caruso To Direct Y: The Last Man, Will Shia LaBeouf Be Next?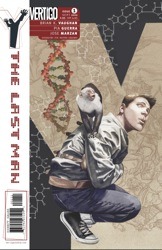 Many people say Watchmen, but for me the greatest comic book series of all time is without a doubt, Brian K Vaughn's Y: The Last Man. A big screen adaptation has been in the works since early 2006. New Line Cinema has finally tapped D.J. Caruso (Disturbia) to direct a film version based on a script by Carl Ellsworth (Red Eye, Disturbia). This is great news since the project had fallen into "development heck." The hiring of Caruso is interesting because a few months ago it was rumored that Hollywood's new golden star Shia LaBeouf was interested in starring in the film. And as you know, Caruso directed Shia in Disturbia. Could this be a set up for a big casting announcement at Comi-Con? The Transformers star doesn't have much (if anything) officially lined up after Indiana Jones 4.
Y: The Last Man follows Yorick Brown, a young amateur escape artist, and his Capuchin monkey, Ampersand, the last two men on Earth. Something (speculated to be a plague) simultaneously kills every mammal possessing a Y chromosome – including embryos, fertilized eggs, and even sperm. Society is plunged into chaos as infrastructures collapse and the surviving women everywhere try to cope with the loss of the men. Yorick goes on a mission to find his girlfriend Beth, who was on vacation in Australia.
The Y: The Last Man series will end (as planned) with a double sized issue #60 early next year.