No Borat Sequel For Cohen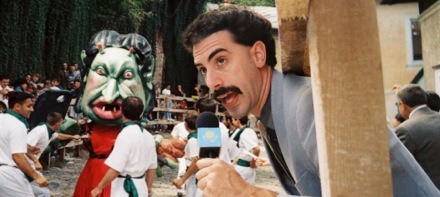 Our friends at Collider asked Hot Rod star and Sacha Baron Cohen's fiancé Isla Fisher if a Borat sequel would ever happen. This is what she said:
Not at this stage. Much as I would love to see the yellow thong out again (the room erupts in laughter) and the handlebar mustache.
And while we won't see Borat's face on the big screen anytime soon, Cohen is currently filming a sequel of sorts without the reporter from Kazakhstan. When Borat became a huge hit, Universal offered Sacha Baron Cohen $42 million to make a follow-up based on one of his third most popular character Brüno, a gay Austrian fashion show presenter, who often lures his subjects into unwittingly making provocative statements and engaging in embarrassing behaviour, as well as leading them to contradict themselves, often in the same interview. Bruno is currently filming.