Silent Bob Speaks Less At Comic Con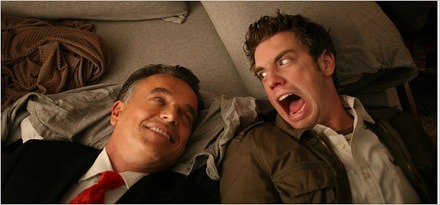 They have added a screening of the Reaper pilot to Kevin Smith's panel on Friday night at the San Diego Comic Con. Reaper is a new ABC television dramedy about a twenty-something slacker works as a bounty hunter for the devil. Smith also hopes to bring some of the cast members in to field some questions from the fans.
The good news is that the series is getting some decent early buzz/reviews (You can peep some early clips on CW's website). I'm excited to see what Kevin has done with somebody else's script (a first) but I'm mildly disappointed that more than 45 minutes of Smith's allotted hour and a half time slot will be for the screening.  I also seriously doubt that many (if at all any) people really care about asking Bret Harrison a question when Smith is also on stage. Smith can, and has, gone for hours with his Q and A sessions. I wonder if Comic Con will extend his block due to these new developments. Smith? Bueller? Anyone?