Casting Watchmen: Matthew Goode, Patrick Wilson, Malin Akerman, Billy Crudup And Jackie Earle Haley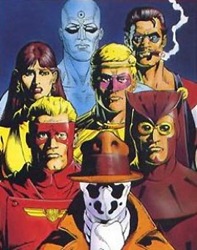 Later this week at the San Diego Comic-Con, Zack Snyder is expected to reveal the cast for his upcoming big screen adaptation of the classic Alan Moore graphic novel Watchmen. But as we near our Wednesday afternoon flight to San Diego, actors names have started to leak onto the interwebs.
IESB reports that Adrian Veidt/Ozymandias will be played by Matthew Goode (The Lookout, Match Point). Previous internet speculation had Jude Law attached to the role.
Patrick Wilson (Little Children) as The Night Owl.
LatinoReview reports that Malin Akerman (Harold & Kumar Go to White Castle, The Invasion, The Heartbreak Kid) has been cast as Sally Jupiter aka The Silk Spectre.
Billy Crudup (Almost Famous) is supposedly attached to play Dr. Manhattan.
Jackie Earle Haley (Little Children) has been confirmed by LatinoReview as Walter Kovacs aka Rorschach
Watchmen is considered the Citizen Kane of comic books. Many of the sucessful (and some unsucessful) comic book series have borred elements and ideas from the book. Because of that, I'm worried that much of the material might now seem cliche. It will be interesting to see if they can sucessfully adapt it to the big screen. Last month we published a rumored cast list which you can read at this link. I'm sure we'll find out many more names at the Warner Bros panel on Friday morning.