Cloverfield: Behind The Scenes Footage And Photos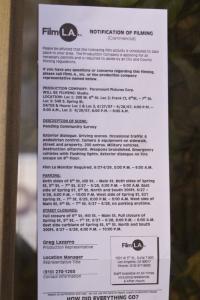 Our friends at CloverfieldClues have pointed us to a video which appears to be the first behind the scenes footage from the JJ Abrams produced top secret monster flick Cloverfield. The footage, which can be seen after the jump, shows people running down a city street and military vehicles in action. In one of the shots you will notice a striped SEPHORA store. Apparently the store is a fake creation to make downtown Los Angeles look more like New York City. There are Sephora stores in Los Angeles, but all three appear to be in malls.Eric Richardson has posted a photo of the fake Sephora store and the included public filming notice for a Paramount movie titled Slusho. Check out the notice to the right. Click on the image to enlarge. Looks like the filming took place late last month, days before the Cloverfield trailer premiered with Transformers. Which just goes to show you we're still picking up on clues from almost one month ago. And again, the video footage can be seen after the jump.To Paramount Legal: The video and attached photos were obtained on public property.
The guy who shot the video (user: askawetback) writes:
Footage I shot on the night those bastards from cloverfield where shooting on my street they where using a megaphone and kept evryone in the building awake for days they also fd'up the traffic like every other big budget movie does (who cares about those stupid taxpayer drivers?) this was also shot in the same location where prime is on the floor at the end of that movie.