Box Office Tracking: Chuck & Larry, Harry Potter And Hairspray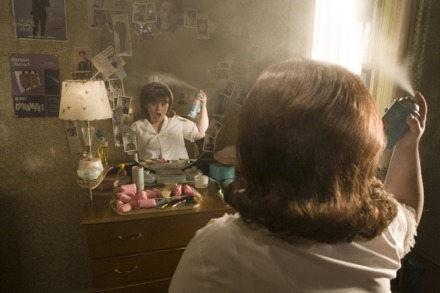 I Now Pronounce You Chuck & Larry will probably challenge Harry Potter & the Order of the Phoenix for the weekend crown, but Hairspray is the movie that holds the most box office intrigue. Directed by Adam Shankman (Bringin' Down the House), Hairspray is getting the widest opening for any film musical in the modern box office era with 3,121 locations (and an even higher print count with a fair number of multiple screen locations). I have no doubt that Hairspray will deliver the biggest opening weekend for a movie musical in the past 30 years.
This musical's tracking puts it at about 90% Total Aware with Definite Interest in the low 30's. That's a huge chunk of the audience, mostly men, with absolutely no interest whatsoever. In fact, Definite Interest with Males Under 25 and Males 25+ are both below 20%. Meanwhile, Definite Interest with women is through the roof, with Females under 25 above 50% and Females 25 Plus above 40%.
Complicating things for Hairspray is the fact that Definite Interest for I Now Pronounce You Chuck & Larry with that same Female Under 25 demo is in the mid-50's. In fact, the strongest quadrant for the Adam Sandler-Kevin James gay spoof in terms of Definite Interest is young women. When Under 25's show up at the multiplex on Friday and Saturday night for their weekend dates, they'll have a choice. There's one movie that only Under 25 Females have any interest in seeing (Hairspray) or another picture that has appeal with both genders (I Now Pronounce You Chuck & Larry). My guess is that Chuck & Larry wins out in a high percentage of cases.
This gender-split dynamic makes Hairspray a real box office wild card. It could open anywhere from $15M to as much as $30M, but I'm putting the movie on the low end of that range, maybe $20M-$23M. Less than $20M will mean that New Line should have been more judicious in its opening week screen count. I, for one, am rooting for this picture's success. It's a cut-above an awful lot of the cookie-cutter blockbuster-wannabes that have hit the marketplace this summer.
The fact is that reviews don't help or hurt an Adam Sandler comedy, and the tracking is solid, if not spectacular. Chuck & Larry has a Total Aware right at 90%, Definite Interest approaching 50% and a double digit First Choice score. That should add up to $35M-$38M and a #2 finish right behind Harry Potter's 2nd weekend.
Here are my predictions for the top 5 at the box office for Friday, July 20 thru Sunday, July 22.
1. Harry Potter & the Order of the Phoenix (Warner Bros) – $40M
2. I Now Pronounce You Chuck & Larry (Universal) – $35.7M
3. Transformers (Dreamworks/Paramount) – $22.5M
4. Hairspray (New Line) – $21.75M
5. Ratatouille (Buena Vista) – $11M
Read More in my in-depth column at Fantasy Moguls.