Photos: Tom Cruise In Bryan Singer's Valkyrie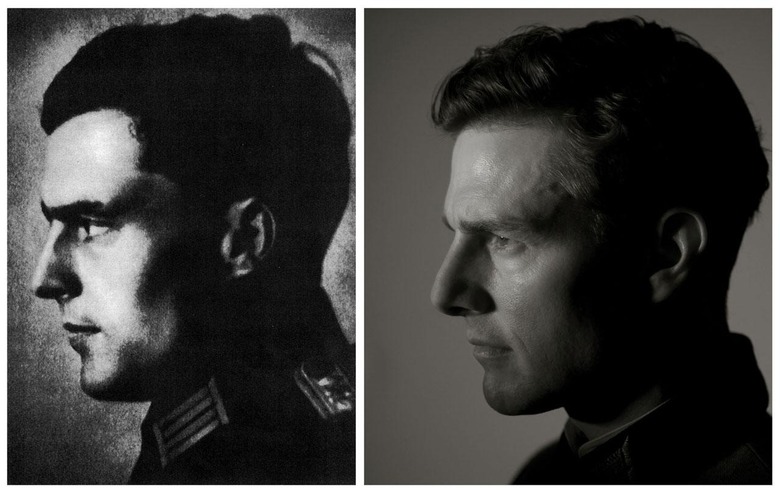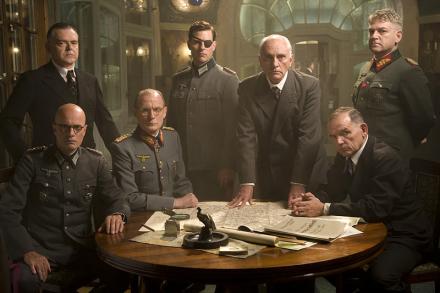 United Artists has released the first images of Tom Cruise as Col. Claus von Stauffenberg in Bryan Singer's Valkyrie. The film portrays the real life story of a German officers attempt to assassinate Adolf Hitler. Check out the image above which shows a comparison between Col. Claus von Stauffenberg (left); and Tom Cruise (right). And to the right you can seed a photo of Tom Cruise as the heroic German combat veteran Col. Claus von Stauffenberg, on his way to Hitler's Bavarian headquarters, where he intends to kill the German Fuhrer. Click on the photos to enlarge. Below you will find United Artists' official principal photography announcement.
WWII thriller marks first re-teaming of director Bryan Singer and Oscar(R)-winning screenwriter Christopher McQuarrie since their 1995 hit "The Usual Suspects" Tom Cruise heads a cast of international stars including Kenneth Branagh, Bill Nighy, Tom Wilkinson, Eddie Izzard, Christian Berkel, Thomas Kretschmann, and Carice van Houten
United Artists Entertainment LLC announced the start of principal photography today in Berlin on the international production of "Valkyrie," a suspense thriller based on the true story of the daring German officers' plot to assassinate Hitler in 1944.
Directed by Bryan Singer ("The Usual Suspects," "Superman Returns," "X-Men," "X2: X-Men: United") and written by Academy Award(R)-winning screenwriter Christopher McQuarrie ("The Usual Suspects," "The Way of the Gun") and Nathan Alexander, "Valkyrie" reunites Singer and McQuarrie for the first time since their ground-breaking 1995 thriller "The Usual
Suspects."
Superstar Tom Cruise heads an international cast as Col. Claus von Stauffenberg, the aristocratic German officer who led the heroic attempt to bring down the Nazi regime and end the war by planting a bomb in Hitler's bunker. Also starring are Kenneth Branagh ("Harry Potter and the Chamber of Secrets"), Bill Nighy ("Pirates of the Caribbean: At World's End"), Tom Wilkinson ("In the Bedroom"), Carice van Houten ("Black Book"), Eddie Izzard ("Ocean's Thirteen"), Christian Berkel ("Black Book"), Thomas Kretschmann ("King Kong"), and Terrence Stamp ("Billy Budd," "Superman," "Star Wars: Episode I – The Phantom Menace").
The film is being produced by Singer, McQuarrie, and Gilbert Adler ("Superman Returns," "Constantine"), with Chris Lee ("Superman Returns") executive producing. Joining Singer behind the camera is a talented production team that includes director of photography Newton Thomas Sigel ("Superman Returns," "X2"), costume designer Joanna Johnston ("Munich,"
"War of the Worlds"), and editor John Ottman (" Fantastic Four: Rise of the Silver Surfer," "Superman Returns").
The "July 20 Plot" on Hitler's life is one of the most heroic but least known episodes of World War Two. Severely wounded in combat, Colonel Claus von Stauffenberg returns from Africa to join the German Resistance and help create Operation Valkyrie, the complex plan that will allow a shadow government to replace Hitler's once he is dead. But fate and circumstance
conspire to thrust Stauffenberg from one of many in the plot to a double-edged central role. Not only must he lead the coup and seize control of his nation's government ... He must kill Hitler himself.
"'Valkyrie' tells a story that is not only exciting but also important," said Singer. "It's something that Chris McQuarrie and I have wanted to do for some time. I can't imagine shooting it anywhere else but on location in Germany, and I'm thrilled that we were able to get Tom Cruise to play Col. Stauffenberg."
"'Valkyrie' is a gripping thriller that will keep audiences on the edge of their seats — and also go a long way towards reminding the world that even within the ranks of the German military there was real resistance to the Nazi regime," said United Artists Chief Executive Officer Paula Wagner.
"As soon as we read the screenplay, we knew this was a movie we had to make."
"Valkyrie" is the second production to be green-lit by United Artists since the fabled Hollywood studio was revived last November under the leadership of Cruise and Wagner, who co-own the studio. It is a co-production of United Artists and Studio Babelsberg AG, the venerable German film studio whose stages have hosted productions ranging from Fritz
Lang's "Metropolis" to Paul Greengrass's "The Bourne Ultimatum."
The film will be shot on location in Germany and elsewhere. It is scheduled to be ready for release by MGM in the summer of 2008.