Interview: Hairspray Director Adam Shankman And Star Nikki Blonsky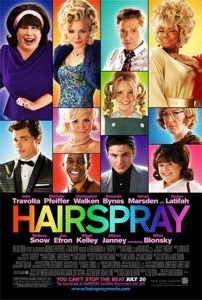 On Monday June 25th I had the chance to sit down with Hairspray director / choreogrpher / executive producer Adam Shankman and star / newcomer Nikki Blonsky, who plays Tracy Turnblad in the film. Nikki is a 17 year old from Long Island who won a nationwide search to win the coveted role of Tracy.
Our roundtable interview was the last one on their San Francisco press day, but Adam was as energetic as ever. I'm still amazed at how self deprecating Adam is about his previous movies/jobs (Pacifier, Cheaper by the Dozen...etc). Listen to the interview using the player below, or check out the chapter points after the jump.
00:40 Shankman talks about The Pacifier and his previous films
01:35 Returning to the musical genre
03:00 Fighting for the Job
03:40 Why Hairspray: Feeling like an outsider
04:40 The relevance of this story of Prejudice in today's society
05:50 Finding Tracey
07:30 The Actors Become Their Characters
08:45 The Casting of Allison Janney
09:40 Casting John Travolta
10:20 Bashing Dreamgirls, Making an effective Musical
11:20 Improving/ADR
12:10 Not Trying to Compete with John Water's original Hairpray
12:30 Baltimore hasn't changed
13:30 The Length of a Comedy
14:15 Nikki talks about the photo frame duet
15:20 Not Breaking Tracey Out of Jail
17:00 Zac Efron Making Out with the Photo Frame
18:00 Nikki's exhausting production schedule, Coming Up From Working Minimum Wage
19:00 Cold Stone Creamery Jingles
19:30 Casting/Finding Nikki
21:45 Fans of Musical Theatre
22:15 Nikki's Future in Film
23:15 Adam talks about his next project: Bedtime Stories starring Adam Sandler
24:35 No Interest in Remaking Pink Flamingos: "Why would you remake a John Waters movie just to remake a John Waters movie?"