Big Budget Troll Remake?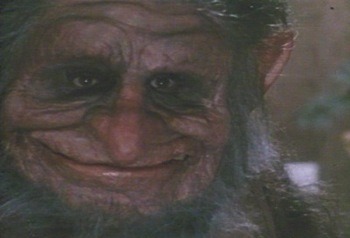 BD is reporting that someone in Hollywood has decided to make a big budget remake of John Carl Buechler's 1986 horror film TROLL. The only thing we know so far is the provided plot synopsis:
The film is about a young boy enters a parallel world of wizards and magic where he befriends a good witch. Soon the boy learns that he must save the world from an evil Troll/Wizard that has the ability to hide his essence within the bodies of others.
I'll fess up. As a kid, the two movies that terrified me were The Gate and TROLL. It's one of those really bad b-horror films with a little person running around in an evil troll suit. I haven't seen the movie in many years, and I'm guessing if I did I'd more likely laugh than quiver in my seat. I see that the users on the internet movie database have given the film a 3.1 rating, which is horrible, but not bad enough to make the Bottom 100 of all time list. However, Troll is featured in the 2004 DVD documentary, The 50 Worst Movies Ever Made. Troll spawned two sequels (one of which can't even be found on imdb). Troll 2 ranks #21 on IMDB's list of the worst movies of all time.
Interestingly enough, the main character (and his father) in the movie were both named Harry Potter (Sr. and Jr.). He was surrounded by a fantasy world of witches, wizards and magic – more than a decade before J.K. Rowling's Harry Potter novels swept the publishing world. The film was also Julia Louis-Dreyfus' film debut.
Check out Sonny Bono's death from the original film after the jump.