Contest: Hot Rod Mega-Giveaway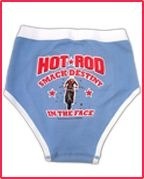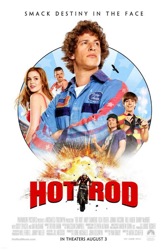 Paramount's new comedy Hot Rod starring SNL's Andy Samberg is set to hit theaters on July 24th, and Paramount has given us a bunch of cool goodies for you to win. We have Hot Rod t-shirts (girl and boy â€" see link), underoos (photo right), and drumroll please... an AUTOGRAPHED poster.
All you need to do to enter to win is e-mail us with the subject HOT ROD. Tell us what piece of Hot Rod swag you'd like to get, and the reason why you deserve to win. We will e-mail winners on July 27th. Also, after the jump we have a look at one of Hot Rod Kimble's training sequences.
Amateur stuntman Rod Kimble (ANDY SAMBERG) has a problem â€" his step-father Frank (IAN MCSHANE) is a jerk.  Frank picks on Rod, tosses him around like a rag doll in their weekly sparring sessions, and definitely doesn't respect him, much less his stunts.  But when Frank falls ill, it's up to Rod to stage the jump of his life in order to save his step-father.  The plan: Jump 15 buses, raise the money for Frank's heart operation, and then... kick his ass.