David Fincher's Zodiac Director's Cut In 2008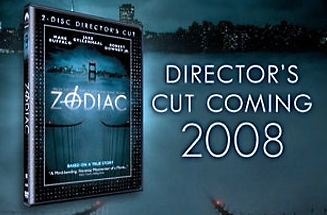 Zodiac will hit DVD store shelves on July 24th, but you might want to consider holding off on that purchase. Aside from the fact that the studio is releasing the film bare-bones (aka next to no extra features), there is now something new to consider. Apparently David Fincher's Zodiac: 2-Disc Director's Cut will be arriving in 2008.
And of course, this new release will be packed with special features missing from the single disc version, including an audio commentary by David Fincher, actors Jake Gyllenhaal and Robert Downey, Jr., screenwriter James Vanderbilt, producer Brad Fischer and crime novelist James Ellroy, extensive behind-the-scenes featurettes detailing the production from start to finish, and an in-depth look at the actual Zodiac crimes, including all-new interviews with the original investigators and survivors. Looks like I'll be holding off for the directors cut.
I wonder, how much longer could Fincher's directors cut be? I was one of the few people that really fell in love with this film, but a lot of people have complained that the film is too long and that Fincher was given too much room to "do his own thing". And I imagine that this won't just be the same movie with all the deleted scenes now included as they usually bill a release of that kind as a "Extended Cut". But they are calling this a "directors cut", which must mean that the 158 minute theatrical cut was actually a shorter movie than Fincher envisioned, and was probably the result of studio tinkering.
And we also must remember that a director's cut is not always longer than the theatrical version of a film. Oliver Stone released Alexander a couple years ago on DVD in a director's cut which was 8 minutes shorter than the theatrical version (Stone had excised approximately 17 minutes from the old version and reinstated 9 minutes of new footage). Although, this is not usually the case.