Box Office: Potter Adds $28.8M On Saturday, Transformers Tops $200M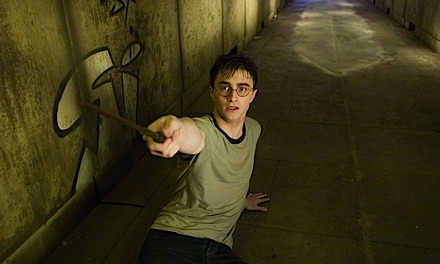 HARRY POTTER AND THE ORDER OF THE PHOENIX continued its box office roll on Saturday grabbing an estimated $28.82M, putting the fifth installment of the Potter franchise past the $100M mark on just its 4th day of release. It will be tough for HP5 to reach $80M for its traditional Fri-Sun 3-day, but my revised 3-day projection is still a magical $76M, giving it a 5-day opening of $137.9M. That's easily the biggest opening 5 days in the Potter series.
TRANSFORMERS delivered an estimated $14.95M on Saturday, as the Autobots and Decepticons charged past the $200M mark. The Michael Bay-by-way-of-Hasbro action pic is clearly attracting more families, and I'm revising my 3-day from $34M to a better-than-expected $35.5M. RATATOUILLE cooked up another $7.2M and should get to $18M for the 3-day. LIVE FREE OR DIE HARD saw a nice Saturday surge for an estimated $4.62M. Old man John McClane will climb past the $100M mark sometime on Sunday. Finally LICENSE TO WED (Warner Bros) maintains a spot in the top 5 with $2.87M, which will likely translate to a $7M weekend.
Also of note among more limited releases -
The gruesome After Dark release CAPTIVITY is an unmitigated disaster with just $489,000 at just over 1,000 locations and an expected 3-day of $1.3M. It's still unbeliveable that an  Oscar nominated director like Roland Joffe (THE KILLING FIELDS, THE MISSION) was at the helm of this sadistic venture.
YOU KILL ME starring Ben Kingsley and Tea Leoni has met with a lukewarm response to its expansion to 245 locations. The black comedy yielded just $890 per screen on Saturday and an estimated 3-day take of $539,000.
RESCUE DAWN, from director Werner Herzog and produced by NBA All-Star Elton Brand, expanded to 38 locations, and it is showing real box office potency. The Vietnam-era POW film generated $5,300 per location on Saturday, and its 3-day PTA will likely top $12,500.
The top PTA on the arthouse circuit this weekend is Patrice Leconte's MY BEST FRIEND starring Daniel Auteuil. At just 3 locations, it delivered over $9,000 per on Saturday, and this French film has a shot at a $20,000+ PTA for the weekend.
Sundance Winner JOSHUA and Warner Independent's INTRODUCING THE DWIGHTS were far less successful adding screens. Also, Steve Buscemi's INTERVIEW opened to lukewarm numbers at 6 locations and the long-shelved SHORTCUT TO HAPPINESS, directed by Alec Baldwin, should have stayed on the Yari Film Group shelves. This dog opened on 22 screens, none in major cities, and it will likely finish with only $25,000-$30,000 in total ticket sales.
I've gone online with my Saturday Estimates for the top 38 grossing films followed by my Revised 3-Day Estimates using an approximate Sunday drop. All that and more at FantasyMoguls.