Angelica Huston Joins Sam Rockwell In Chuck Palahniuk's Choke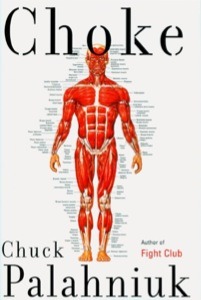 In May we told you that Sam Rockwell was set to star in a big screen adaptation of Fight Club author Chuck Palahniuk's Choke. Well now it seems official because the trades are reporting the story as fact, and we now have new confirmed details. Angelica Huston will play Victor Mancini's (Rockwell) mother who is in a private mental hospital.  Kelly Macdonald (No Country for Old Men) and Brad Henke (In the Valley of Elah) also star. Choke will also be the directorial debut of actor Clark Gregg, who also wrote the adaptation. Shooting begins this week in New Jersey.
Chuck Palahniuk is the biggest untapped resource producing books today. His breakthrough novel Fight Club, was made into one of the most brilliant films of the last 10 years. Yet none of his other novels have gone into production since, mostly because Hollywood is afraid to touch them.
I'm glad to see that another one of his books has finally been given a chance. Although, I wish it were Survivor – which was set to go into production before, well, THAT day. You see, Survivor's main character is a terrorist who hijacks a plane and… yeah, that project is way dead. But it's definitely my favorite Palahniuk novel (underneath Fight Club, of course).
If you never want to read Choke, than don't pick it up in a book store and start reading the first chapter. It might very well be the best opening chapter in terms of sucking you in.
    Choke follows Victor Mancini and his friend Denny through a few months of their lives with frequent flashbacks to the days when Victor was a child. Victor grew up while going from one foster home to another. Victor's mother was found to be unfit to raise Victor. Several times throughout his childhood his mother would kidnap him from his foster parents. They would eventually be caught and he would again be remanded over to the government child welfare agency.
In the present day setting of the book, Victor is now a man in his mid-twenties who left medical school in order to find work to support his mother who is now in a nursing home. He cannot afford the care that his mother is receiving so he resorts to being a con man. His "con" is to go to restaurants and midway through his meal, he forces himself to choke on his food. When some good Samaritan comes over to perform the Heimlich maneuver, he spits the food out and thanks them for saving his life. He keeps a detailed list of everyone who saves him and sends them frequent letters about fictional bills he is unable to pay. The people feel so sorry for him that they give him money, send him cards and letters asking about him how he's doing, and even continue to send him money to help him with the bills.