Indiana Jones 4 Video Diary: Indy Arrives!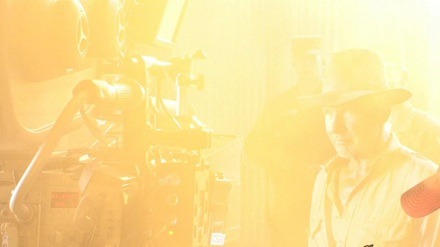 The newest Indiana Jones 4 Video diary features the first official epic footage of Harrison Ford back in his Indy gear. We see Harrison shooting a scene, and in between takes joking around with George Lucas and Steven Spielberg. I hope these video diaries will become more frequent and feature more substance and less tease. Check out the video after the jump or on IndianaJones.com.
Hat? Check. Jacket? Check. Bullwhip? Check. As cameras roll on the new Indiana Jones adventure, Director Steven Spielberg shares with us a brief video of Harrison Ford returning to his classic role.
 [flv:http://www.slashfilm.com/wp/wp-content/trailers/indyarrives.flv 450 250]