10,000 BC Teaser Movie Trailer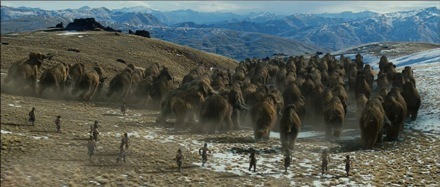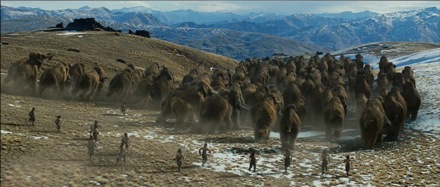 From the director of Independence Day and The Day After Tomorrow comes an epic film set back in 10,000 BC. The story follows a member of a primitive tribe during the dawn of man. 21-year-old mammoth hunter D'Leh (Steven Strait) travels through unknown lands on a quest to rescue his people from extinction. D'Leh, leading an army, uncovers a lost civilization in pursuit of a warlord who kidnapped his love, Evolet (Camilla Belle). D'Leh and his army encounters saber-toothed cats and other prehistoric predators in the journey to save his tribe. I'm surprised they aren't touting this film as "From the studio that brought you 300".
10,000 BC was originally slated to hit theaters in later July, but the release date was pushed back to December 14th, and then a second time to March 7, 2008. Delays are usually never a good sign. But the teaser trailer looks interesting enough. Check it out after the jump.
[flv:http://www.slashfilm.com/wp/wp-content/trailers/10000bcteaser.flv 450 190]
Check out the teaser trailer in High Definition on Yahoo Movies.