Movie Sold On iTunes While Playing On Big Screens Around The World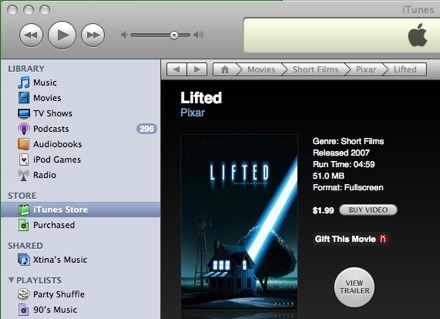 A lot of the industry talk now-a-days is about the viability of day and date releases (ie releasing a movie on dvd and theatrically on the same day or week). Most theater owners are against the idea, fearing a loss of revenue. And most of the big Hollywood studios are also against the idea because of piracy concerns. So who would have thought that Disney would be the first studio to release a movie for purchase on iTunes the same week that the film is released theatrically around the world. Okay, I know this a bit of a stretch – but I thought the build up was worth it.
Disney/Pixar is selling Gary Rydstrom's short film Lifted on the United States iTunes Store for $1.99. Lifted was the cute computer animated short film attached to Ratatouille, which hit theaters this past week. As far as I can tell, from the limited research I have done, this is the first second movie in wide release that is being sold online digitally within 4 days of it's worldwide theatrical release. Baby-steps...
Update: I have been quickly corrected. Apparently Pixar/Disney released One-Man Band on June 13th 2006, just days after Cars hit theaters. So this is not a first, but interesting none the less.