Watchmen Cast List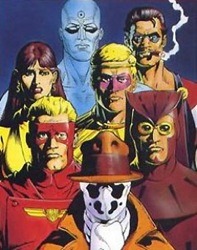 Our friends at dTheatre have posted a complete list of the rumored (but not confirmed) cast for Zach Snyder's big screen adaptation of Watchmen.
Kate Winslet as Silk Spectre
Patrick Wilson as Night Owl
Jason Patric as Dr. Manhattan
Thomas Jane as The Comedian
Virginia Madsen as Sally Jupiter
Henry Gibson as Mr. Figure
William Fichtner as Detective Fine
Noah Emmerich as Captain Metropolis
Gretchen Mol as Janey Slater
Jackie Earle Haley as Rorschach
What do you guys think?