Photos: 7-Eleven Turned Into Kwik-E-Mart For The Simpsons Movie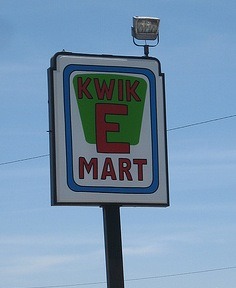 A few months back we reported that 7-11 had entered into a marketing partnership with Fox to turn a bunch of 7-11 stores into KWIK-E-MARTs to help promote the upcoming release of The Simpsons Movie. Well the first store has popped up in Burbank, CA at the corner of Olive & Verdugo.  It seems like they've replaced pretty much all of the store's sign-age with KWIK-E-MART versions. This has to be one of the best movie marketing promotions of all time. Hats off to the Fox marketing team!
RDR07 has posted 57 amazing photos from the store for you to check out on Flickr.com. We have posted a couple of the more interesting ones below.