Photo: Jack Black Is Driving Miss Daisy In Michel Gondry's Be Kind, Rewind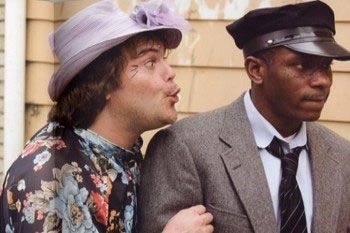 Another photo from Michel Gondry's Be Kind, Rewind has found it's way onto the internets. Last time we showed you a photo of the guys spoofing / reinacting Ghostbusters. This time Jack Black and Mos Def are Driving Miss Daisy.
Be Kind, Rewind follows a junkyard worker (played by Jack Black) who believes that a power plant is melting his brain. His plan to sabotage the plant goes wrong and he instead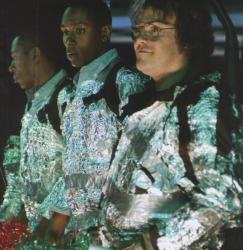 creates a magnetic field that erases all of the videotapes in the local video store where his best friend works. Fearing that the accident will cost his friend his job, the two team up to keep the store's only loyal customer, a little old lady with a very loose grasp on reality, from realizing what has happened by re-creating and refilming every movie that she decides to rent, including Rush Hour 2, Robocop, Boyz In The Hood and Back to the Future. The movie also stars Danny Glover, Mia Farrow, and Mos Def.
The release of Be Kind, Rewind has been pushed up to December 21st 2007.