Director Seeks Fake Date For Real Movie Premeire?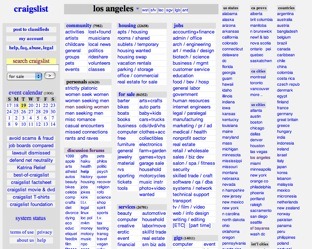 We usually try not to focus on the personal lives of actors or directors, but this caught our eye. Someone has posted on craigslist claiming to be a director looking for a date to a big hollywood movie premiere which is happening the last week of June. You can read the posting below followed by our thoughts on which director it could be (if this is in fact real):
director needs a (fake) date for a (real) movie premiere – m4m – 33
As bizarre as this sounds, I am looking for a date for a movie premiere. I directed a movie and it's premiering the last week in June. I want to go to the premiere with a date.
Yes, there will be celebrities and industry weirdos at the premiere. Yes, there is a big party afterwards. Yes, I really am the director. Yes, it really is a real movie with real celebrities at a real premiere with a red carpet and everything.
Why am I looking for a date on Craigslist? Because I am new to Los Angeles and I dont know anyone here, and I have been working so hard on the movie I haven't met anyone since I got here (moved from NYC to make the movie). It's hard to meet people in LA. Especially when you're working 14 hours a day 7 days a week.
No, you don't have to sleep with me. Just want a reasonably good looking guy at my side as I walk down the red carpet. It's a once in a lifetime event – why not share it?
I'm laughing out loud as I write this. It seems completely absurd. But – why not?
Here are the requirements. You are:
1. not insane
2. between 25 and 40 (give and take a year or two)
3. reasonably intelligent
4. good looking
5. not an actor who is going to try and use this as a networking opportunity (ok to be an actor – but again, not insane)
6. clean (well groomed) and sober (not a drunk or an addict)
7. willing to go along with the charade for the fun of it
8. not crazy
If you are a fellow ex-pat new yorker who went to a good college and is now living in Los Angeles wondering what the hell you are doing in Los Angeles – all the better.
There are no responsibilities beyond the premiere and the party. If we hit it off – great, we can be friends.
Part of me is hoping to find someone so incredibly good looking that he will bring traffic to a halt. But – that is kind of shallow, isn't it. But – then again, it's a fake date – and this is Hollywood. But – sense of humor trumps looks every time. And – you're going to have to have a good sense of humor to pull this off.
Oh, whatever. Let's see what happens. Please reply with a picture (to weed out crazies and freaks – although you can't always tell).
And I'll get back to you soon
thanks
Again – yes this is real.
Let's take a look at the directors with movies that are (or might be) premiering in Hollywood the last week of June include:
Ken Kwapis (License to Wed) Age 49, From Illinois, attended USC in Los Angelels, so it's not likely.
Cherie Nowlan (Introducing the Dwights) Being Female rules her out, since the ad is Man looking for Man
Michael Bay (Transformers) Aged 42, was born and lived in Los Angeles fior most of his life. This rules him out.
David Yates (Harry Potter and the Order of the Phoenix) Age 43, born and lives in England. He's out.
Michael Moore (Sicko) Married, lives in Michigan. He's out.
George Ratliff (Joshua) Age 38. We are unable to find out where Ratliff lives, but Joshua was filmed entirely in New York City. He talks enthusiastically about the city in most of the interviews for the film. Two of his previous documentaries were filmed in Texas, which make us believe he's from there. UPDATE: George is Married and has Kids. So he's Out.
Brad Bird (Ratatouille) Married, kids, lives in San Francisco. He's Out.
Len Wiseman (Live Free or Die Hard) Married to Kate Beckinsale. Out.
If I had to choose one director from the above list. But again, this whole posting could be fake. I mean, it's a genius way to get tons of responses to your personal ad. Imagine how many great-looking actors have responded to this posting. I know the posting warns against them responding, but that won't stop em'.
I've spent entirely too much time trying to figure this out, and must go on to other (more productive) work. What do you think? Who could it be? Am I missing someone? Is it a fake?