Star Trek 11: Big Casting Announcements At Comic-Con, Shooting Begins In Novemeber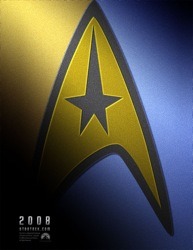 Executive producer/co-screenwriter Roberto Orci has revealed that shooting will begin on Star Trek 11 (which will be titled Star Trek) in November 2007. Orci told IESB that the casting process has begun, with decisions to be made soon. Apparently, the big announcements will be made in Late July at the San Diego Comic-Con (but will Paramount be able to keep the news quiet until then?). We'll be at the convention to report the news live as it happens.
The new movie is expected to be a prequel, will involve James T. Kirk and Spock. Rumors have run rampant over the potential casting. Frontrunners have emerged in Matt Damon as Kirk and Ben Affleck as Spock. Many other actors, including Philip Seymour Hoffman, Daniel Craig, Greg Grunberg, Kevin Weisman, James McAvoy and Zachary Quinto have either expressed interest in playing roles or have been reported as being in consideration, but their comments have indicated no actual offers, personal auditions, or negotiations with the studio.
JJ Abrams' Star Trek is scheduled to hit theaters on December 25th 2008.