Interview With Eagle Vs. Shark Director Taika Waititi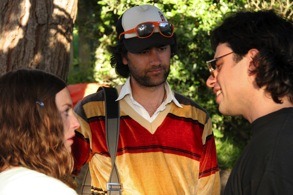 On Monday June 4th we got the chance to sit down with Eagle vs. Shark writer/director Taika Waititi. We LOVED his film when we saw it at Sundance, and had a full list of questions about Waititi's hilarious movie.
Running Time: 30 Minutes
Time-code Chapter Guide:
0:25 The Origin of the Idea
2:45 Judah Friedlander as Jarood at the Sundance Labs
4:00 Casting His Friends
4:30 The Evolution of the Script
5:40 The DVD Release and Deleted Scenes
6:05 The Use of Stop-motion Animation
8:05 Stop-Animation Parallels The Story
8:55 The Creative Production Design
10:00 The World: "It's like nothing was invented after 1989"
10:50 Addressing Comparisons to Napoleon Dynamite
13:15 Taika Waititi's Top Five Movies of the Moment
15:00 Taika's Cameo as the dead brother Gordon
15:45 Jarood's Cheetah Painting: Populating the world with Animals
17:00 Lily's attraction to Jarood
20:15 Symbolism: The Wheel Chairs?
22:30 The availability of Taika's short film Two Cars, One Night
23:00 Taika's Feature Film adaptation
23:30 Title: Volcano or Choice?
24:35 Taika's Adaptation of Wild Pork and Wildcrest
26:45 Taika's Other project about a Cop who wants to be a Hero
28:00 Jarood's Father's disability? "He's an emotional cripple"