Across The Universe Movie Poster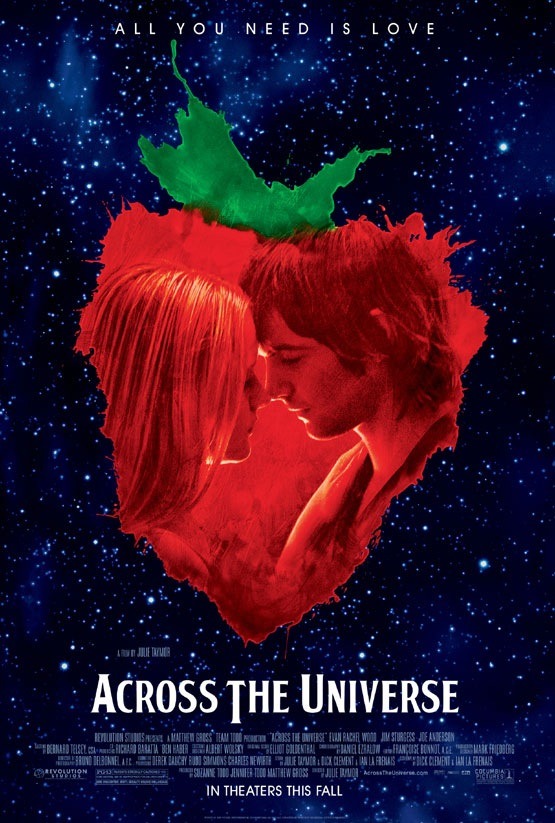 We've been looking forward to Across The Universe ever since we heard the words "Beatles" and "musical" used in the same sentence. The movie trailer looks amazing. Who cares what Roth says, we have faith in Academy Award nominated director Julie Taymor (Frida, Titus). Check out the new theatrical poster to the right. Click on the photo to enlarge.
Described as a "romantic musical" told through numerous Beatles songs performed by the characters, Across The Universe is a love story set against the backdrop of the 1960s amid the turbulent years of anti-war protest, mind exploration and rock 'n roll, the film moves from the dockyards of Liverpool to the creative psychedelia of Greenwich Village, from the riot-torn streets of Detroit to the killing fields of Vietnam. The star-crossed lovers, Jude (Jim Sturgess) and Lucy (Evan Rachel Wood), along with a small group of friends and musicians, are swept up into the emerging anti-war and counterculture movements, with Dr. Robert (Bono) and Mr. Kite (Eddie Izzard) as their guides. Tumultuous forces outside their control ultimately tear the young lovers apart, forcing Jude and Lucy against all odds to find their own way back to each other.
The film stars Evan Rachel Wood, Jim Sturgess, Martin Luther, Eddie Izzard, Salma Hayek, Bono, Dana Fuchs and T.V. Carpio. Across The Universe hits theaters on September 28th, 2007.