Rocket Science Movie Poster And Two Video Clips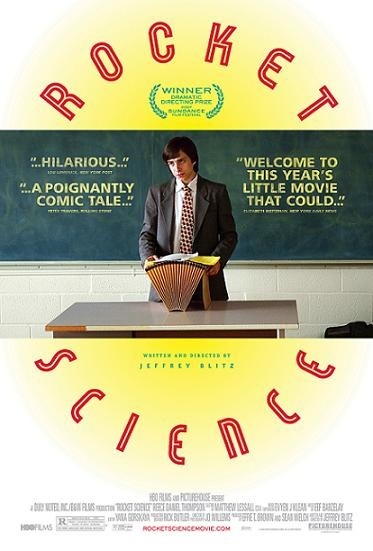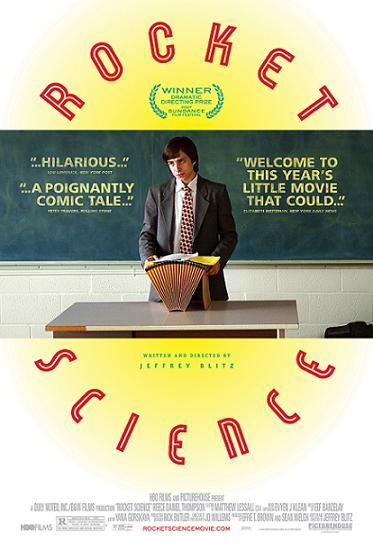 Rocket Science was not only one of our favorite movies at Sundace 2007, but it's also one of my favorite movies of the year. In our review, we wrote: "Jeffrey Blitz has created the next Sundance classic. See this movie, see this movie, SEE THIS MOVIE."
It's a mixture of Election, Rushmore, and Squid and the Whale (you can read the official synopsis after the jump). Picturehouse has released the new theatrical movie poster, which our friends at MMM liked, but we really really hate. I just think it has a very low budget feel to it that may detract most potential ticket-buyers. It's such a great movie that deserves to be seen.  Click the poster to see a slightly enlarged version.
Also, we've been sitting on two clips from Rocket Science for a while, and now that the poster is released, I figure nows a good time to post them. So check out the video clips after the jump. Rocket Science won the Dramatic Directing Prize at the 2007 Sundance Film Festival and will hit theaters on August 10th.
The first clip shows Ginny Ryerson (played by Anna Kendrick) approaching Hal Hefner (played by Reece Thompson) on a school bus to join the debate team.
[flv:http://www.slashfilm.com/wp/wp-content/trailers/rocketscienceclip1.flv 450 250]
The second clip is a conversation between Hal Hefner and his brother. Hal needs some good girl advice, which his brother apparently doesn't have.
[flv:http://www.slashfilm.com/wp/wp-content/trailers/Rocket_Science.flv 450 250]
Official Synopsis:
A teenager tackles the mysteries of life, love and public speaking in ROCKET SCIENCE, a wry comedy of adolescent angst by Jeffrey Blitz, director of the Academy Award®-nominated documentary SPELLBOUND.  Making his feature narrative debut, Blitz leaves behind the conventions and clichés of coming-of-age tales to instead conjure a world where everyone, regardless of age, is befuddled by desire and the longing for human connection.  Mixing humor with a compassionate regard for his characters and their idiosyncrasies, Blitz creates a film about the little insights that can emerge from, and ultimately eclipse, the agonies and disappointments of youth.
Life is not easy for teenager Hal Hefner (Reece Daniel Thompson) of suburban Plainsboro, New Jersey.  His parents, Juliet (Lisbeth Bartlett) and Doyle (Denis O'Hare), have abruptly split; his older brother, Earl (Vincent Piazza) is a budding obsessive-compulsive who pushes him around; and he has an unpredictable stutter that makes high school an exercise in embarrassment, self-effacement and terrible lunches.  While Earl sets out to conquer the world through a combination of assiduous planning, an intimidating demeanor and habitual theft, Hal remains well in the background at Plainsboro High.
Given that his active mind and quick wit tend to be obscured by his problematic voice, Hal is not an obvious candidate for his school's high-powered debate team.  So it comes as a complete, though not unwelcome, surprise when the team's star member, the hyper-articulate Ginny Ryerson (Anna Kendrick), approaches Hal on the school bus one afternoon.  The Plainsboro debaters need a replacement for Ginny's former partner, the brilliant Ben Wekselbaum (Nicholas D'Agosto), who dropped out of school following a calamitous performance at the New Jersey State High School Policy Debate Championships the previous spring.  Ginny, who can compress an eight minute argument into ten seconds without breaking a sweat, dropping a word, or botching a barb, proceeds to present her case for Hal's potential as a public speaker.  Her command of language is superb, her wit sharp, and her reasoning hard to fault.  She has seen Hal, she has seen his promise.  Hal is more than just shocked, or even dazed; he is smitten.
As the notion of debating takes hold in Hal's mind, so, too, do thoughts of the attractive and dazzlingly confident Ginny.  Gambling that his voice will cooperate with the rest of him, Hal joins the Plainsboro High debate team as Ginny's partner.