Comic Book To Film: Tim Story To Direct The Losers Movie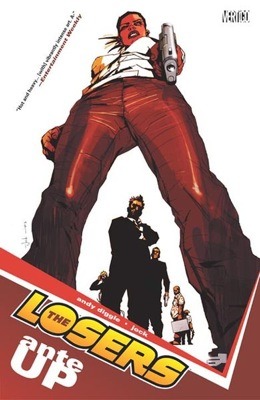 "Never miss an issue. I'm down with The Losers in a big way. It's tough to make international espionage fresh, and I love that book." – JOSS WHEDON
"The Losers, the best comic book not yet on the big screen" – NEW YORK MAGAZINE
Fantastic Four: Rise of the Silver Surfer director Tim Story (meh) has signed on to direct a big screen adaptation of DC/Vertigo Comic's The Losers for Warner Bros.
The comic book series, written by Andy Diggle and drawn by Jock, was based on an obscure 1970's DC Comic following a team of soldiers in WWII. This new series brings the concept up to date with a present day setting and a team of special forces soldiers (think The A-Team) who declare war on the CIA after their Agency handler tries to assassinate them.
Peter Berg (Friday Night Lights, The Rundown) was originally eyeing the film to direct. He instead wrote the adaptation and will produce. This is too bad because Berg is a much better director than Story (who in most fanboys eyes singlehandedly RUINED the Fantastic Four movie). While the script was written to be a "one-off" story, the producers believe that is successful, it could be turned into a movie franchise.
The series won the best new comic award in 2004 at the National Comic Awards and was nominated for Best New Series at the 2004 Eisner Awards. The series concluded in 2006.