Kevin Smith's Next Comedy: Zack And Miri Make A Porno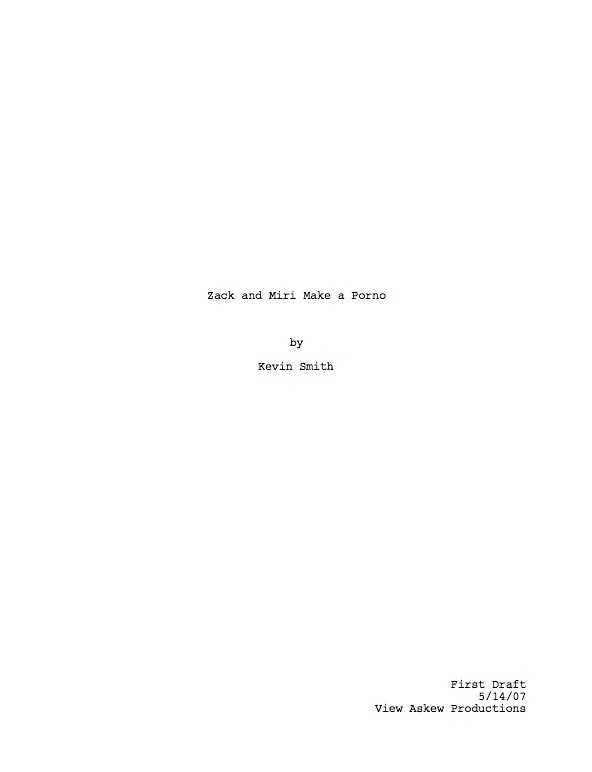 The Los Angeles Times published an interview with uber geek director Kevin Smith, who revealed the title of his upcoming comedy film: Zack and Miri Make a Porno. The Weinstein Co wanted to give Smith $15 million to make the flick based off the title alone. But that's not all, we have MORE DETAILS from Smith himself including the script's cover page seen right (click to enlarge). But first the quote from the LA Times:
"A bawdy sex comedy with heart," as Smith describes the just-completed script, "Zack and Miri" is about two friends who have managed to trudge into their 30s with a satisfying lack of accomplishment. But a 15-year high school reunion and dire rent problems spark the novel moneymaking idea of pulling together an amateur porn enterprise. As for where it goes from there, just think of Smith's characteristic sexual verbosity finally coupled with matching imagery.
"It's … dirty, with nudity," says Smith. "But funny nudity, not gratuitous nudity." Well, leave it to Smith to choose a plotline that kneecaps the issue entirely. (The civilians-making-a-blue-movie conceit also drove the narrative of writer-director Michael Traeger's "The Amateurs," which played festivals last year.) Because the story unfolds during a snowy Minnesota winter, Smith plans to film "Zack and Miri" there in February (although, Smith jokes, global warming may force him to shoot at one of the poles).
Okay and here is more from the writer/director himself:
"Granted, I'm biased because I wrote it; but I really dig this script. It's funny, bawdy, sexy, dirty, titillating (emphasis on the tit) and dripping with heart. If you were gonna do that movie-description thing, I'd say it's like Chasing Amy meets Clerks II, with a dash each of Boogie Nights and Bowfinger tossed in," says Smith.
Smith assures fans that other than the subject of porn movies, his film has almost nothing in common with movies like The Girl Next Door, The Amateurs (recently retitled The Moguls) or I Want Candy.
"Zack and Miri is about as far removed from the world of slick, professional porn (the domain of Girl Next Door) as can be," says Smith. "Regardless, I know I'm in for a few months of "That movie sounds like…", but I'm not sweating it; I've read my script (even wrote it) and while it's preoccupied with dirty movies, I know what it's really about. And about a year from now, you will to."
What else do we know: Smith has always said he was writing the comedy for Clerks 2 star Rosario Dawson, who will be reading it next week. And Smith plans on shooting his low budget horror flick (Red State) later this year before Porno.