Hellboy 2 Cast Announced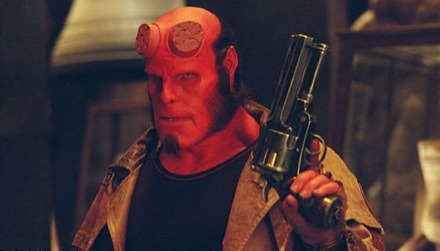 Hellboy writer/director Guillermo del Toro has revealed the full cast line-up for Hellboy 2: The Golden Army. Let's take a look:
Ron Perlman and Selma Blair return to star.
John Hurt (V For Vendetta, Alien) returns for a cameo.
Rupert Evans (who played John Myers in the original) will not be returning.
The script includes a brief cameo/epilogue for Karl Ruprecht Kroenen (played in the original by Ladislav Beran), but it has not yet been approved by Universal.
John Alexander (body) and Thomas Kretschmann (voice) will play Johann Kraus, a disembodied ectoplasmic spirit with psychic abilities who maintains a tangible form via a containment suit.
Doug Jones (Hellboy, Fantastic Four: Rise of the Silver Surfer) will play 4 characters.
Brian Steele (Hellboy, Doom) will play 4 characters.
Anna Walton (The Mutant Chronicles) will play Princess Nuala.
Luke Goss (Blade II) plays Prince Nuada.
Roy Dotrice (Swimming With Sharks, Amadeus) plays King Balor
The movie starts filming this Friday (June 8th) in Budapest. Hellboy 2: The Golden Army hits theaters on August 1st 2008.