Pirates Of The Caribbean: At World's End Sets New Records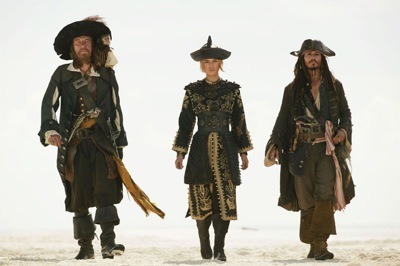 While Disney's Pirates may have not beaten Spidey 3, it did set a couple new world box office records. Check out the full press release after the jump.
DISNEY'S "PIRATES" RULE THE GLOBAL BOX OFFICE WITH BIGGEST OPENING OF ALL TIME; FILM'S UNPRECEDENTED BOOTY OF $401 MILLION IS A NEW INDUSTRY RECORD
 
Domestic Tally of $156 Million Anchors
Memorial Day Weekend Record
 
6 Day International Tally of $245 Million Sets New Record
 
Walt Disney Pictures' epic adventure "Pirates of the Caribbean: At World's End," from Jerry Bruckheimer Films, landed in the global box office record books and laid claim to the biggest opening in industry history, with an unprecedented gross of $401,000,000 in its first six days of release, it was announced today by Mark Zoradi, president of Walt Disney Studios Motion Picture Marketing and Distribution.  This figure surpasses the previous record of $382 million set by the six day opening of "Spiderman 3" earlier this year.  "Pirates" continues to please audiences around the world with exceptionally strong exit polls.
 
Domestically, "Pirates of the Caribbean: At World's End" raised its weekend estimate to $156 million (including Thursday night showings). The film set a new record for the four-day Memorial Day Weekend with its gross of $142 million (including Monday estimates), the film surpassed the previous high of $122.8 million set by "X-Men: The Last Stand" in 2006.
 
At the international box office, Disney's latest "Pirates" adventure shattered records from Russia to Japan with its phenomenal $245 million cume through Monday (including Monday estimates).  The film had record-breaking openings (figures are through Sunday) in their respective markets in the following countries: Korea ($18.4 million), Japan ($15.9 million; US Productions only), Russia ($13.7 million), Spain ($11.6 million), Taiwan ($4.5 million) and Netherlands ($2.8 million).  It also set new Walt Disney Studio records in the U.K. ($26.6 million), France ($17.7 million), Germany ($16.8 million) and Australia ($9.9 million).  With its six-day tally of $245 million, "Pirates of the Caribbean: At World's End" has set a new international record that surpasses the previous six-day high of $232 million set by "Spiderman 3" a few weeks ago.  "Pirates" still has a few markets yet to open including China and India.
 
Commenting on the announcement, Zoradi said, "We knew that audiences all over the world were excited to see Johnny Depp and the rest of the fantastic 'Pirates' cast in this latest adventure, but this record-setting response at the global box office has been nothing short of incredible.  'Pirates of the Caribbean: At World's End' now has the distinction of having the biggest opening in movie history, and we're extremely proud of that achievement.  Credit goes to the multitude of talent both in front of and behind the camera.  Jerry Bruckheimer, Gore Verbinski and their exceptional teams as well as the creative minds of writers Ted Elliott and Terry Rossio have proven to be the perfect recipe for success."
 
"Pirates" which rolled out on over 29,000 screens worldwide, showed on a record number of digital screens both domestically (1,064) and internationally (414) bringing the global total to 1,478.  The film has already become the Studio's 54th release to join the $100 million club internationally and the 53rd film to reach the $100 million plateau domestically â€" unprecedented in the industry.
 
"Pirates of the Caribbean: At World's End" picks up where the record-breaking 2006 smash hit left off, with our heroes Will Turner (Orlando Bloom) and Elizabeth Swann (Keira Knightley) allied with Captain Barbossa (Geoffrey Rush) in a desperate quest to free Captain Jack Sparrow (Johnny Depp) from his mind-bending trap in Davy Jones' locker.  With the terrifying ghost ship, The Flying Dutchman, and its commander Davy Jones under the control of the East India Trading Company, there is havoc on the Seven Seas.  Navigating through treachery, betrayal and wild waters, the heroic trio must forge their way to exotic Singapore and confront the cunning Pirate Sao Feng (Chow Yun-Fat).  Now headed beyond the very ends of the earth, each must ultimately choose a side in a final titanic battle â€" as not only their lives and fortunes, but the entire future of the freedom-loving Pirate way hangs in the balance.