Confirmed: Joel Silver Developing He-Man And The Masters Of The Universe Live Action Movie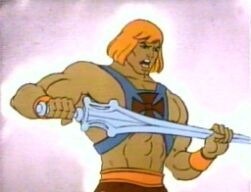 Last week The Sun ran a story claiming that Legendary Pictures (one of the production companies behind Superman Returns, 300, Batman Begins and The Lady in the Water) has acquired the rights to make a new live action He-Man movie, and were considering Brad Pitt for the lead role. We called the production company, and confirmed the story as a ridiculous rumor (and nothing more).
Well, the increased internet interest has prompted Joel Silver and Warner Bros to sign on to develop He-Man and the Masters of the Universe for the big screen. Variety has confirmed that newcomer Justin Marks (who is currently writing Super Max) is penning the script. But this doesn't mean the film is going to happen. Mattel has to formally approve an outline for the project before it can go forward. But considering the gold and glory Mattel will surely see in July from Michael Bay's live-action Transformers adaptation, I don't see how they could say no.
Apparently the project was pitched as a "classic good vs. evil battle" that would use the same digital filming techniques of 300 and Sin City. The project's logline follows: "A warrior is touted as the last hope of a magical land called Eternia, which is being ravaged by technology and a despotic ruler named Skeletor."
Meanwhile, THR says that "The parties are deep in the back-and-forth, with a deal potentially months away, according to sources."
The He-Man and the Masters of the Universe toy line spawned the popular animated series ran from 1983 to 1985. They later created a 1990 futuristic sci-fi cartoon, a 2002 remake, and a horrible 1987 live action film which stared Dolph Lundgren.
For those of you who don't remember the series, Adam, the Prince of Eternia, possesses a magic sword, and when he holds it aloft and says the magic words "By the power of Grayskull… I HAVE THE POWER!" he is transformed into He-Man, the most powerful man in the universe. A brave blond muscleman in a baldric and loincloth, He-Man battles against Skeletor's repeated attempts and failures to enter Castle Grayskull.
I have serious doubts about this project. Would Warner and Mattel be willing to do a PG-13 or R-Rated film? I don't think so. It seems more likely that the studio executives are looking at the property as a toyline for kids, and with that I'm sure the resulting story will be far less dark/real than is needed.