Blonde Ambition Movie Trailer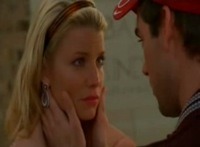 Last year we warned you that Jessica Simpson was making a remake of the 1988 Mike Nichols romantic comedy Working Girl. We knew from the start that Blonde Ambition would be horrible. For one, Jessica Simpson has almost no acting talent. And secondly, her father Joe Simpson is too near sighted to produce a good film. But now the trailer is out, and you can see for yourself after the jump.
[flv:http://www.slashfilm.com/wp/wp-content/trailers/blondambition.flv 440 330]
The new movie stars Rachael Leigh Cook, Luke Wilson, Penelope Ann Miller, Andy Dick, Larry Miller and Willie Nelson.
The original Working Girl starred Melanie Griffith as Tess McGill, a hard working young woman who is determined to reach the top of the stockmarket world but is stuck in secretarial work. When her boss Katherine Parker (Sigourney Weaver) breaks her leg, Tess gets her chance to push ahead with her career. All the while she falls in love with Jack Trainer (Harrison Ford), who she later discovers is Katherine's boyfriend.