New Movie Trailer: The Kingdom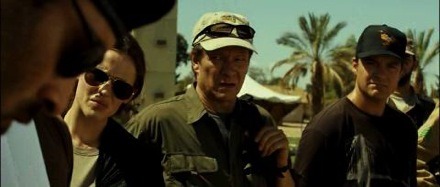 Universal has released a new movie trailer for Peter Berg's The Kingdom. From the director of The Rundown and Friday Night Lights comes a terrorism-fused dramatic thriller starring Jamie Foxx, Jennifer Garner, Chris Cooper, Jason Bateman and Jeremy Piven. How can a movie with a cast line-up like this go wrong? It certainly looks intense. It's funny that Michael Mann is the producer on this movie, because it looks more like a Michael Mann film than a Peter Berg movie.
The Kingdom follows a team of U.S. counter-terrorism investigators set out to find the perpetrators behind a deadly attack on Americans in a Middle Eastern country. In order to work through the bureaucracy and cultural hostility, the team enlists a local police officer, but still find itself target for the terrorists.
Check out the new trailer below.
[flv:http://www.slashfilm.com/wp/wp-content/trailers/kingdom.flv 450 190]
Yahoo has the trailer available in High Definition. The Kingdom hits theaters on September 28th 2007.