Nicolas Cage Cast As Al Capone In The Untouchables Prequel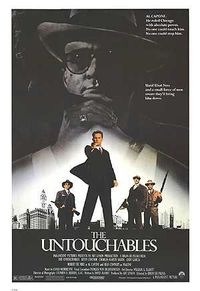 Nicolas Cage will play a young Al Capone in the a prequel to Brian De Palma's The Untouchables. Robert DeNiro played the character in the original film.
The Untouchables: Capone Rising follows Al Capone's arrival in Chicago, Illinois and his dealings with cop Jimmy Malone, and his subsequent rise to power. Sean Connery won an Academy Award for his portrayal of Malone in the original film. The film will reteam Cage with Snake Eyes director Brian De Palma.
According to MTV, the casting announcement is being advertised in the Cannes 2007 issue of The Hollywood Reporter. The advetisement features an early poster show which features Cage's mug and states "Starring Nicolas Cage." No word yet on who will play young Jimmy Malone, although rumors have named both Sean Penn and Colin Farrell.
The Untouchables is based on the 1959 ABC television series, and was a solid hit, grossing over $76 million domestically. The film starred Kevin Costner, Sean Connery, Robert De Niro and Andy Garcia.
Principal photography will begin in October 2007.