Brad Pitt In Line To Star In Live Action He-Man Movie?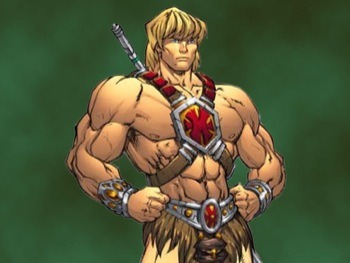 Update: We just got off the phone with a rep from Legendary Pictures, who vehemently denies the story, claiming that it is "not correct." Legendary told us that as of this moment, they are NOT involved in this project in any way.The Sun is reporting that Legendary Pictures (one of the production companies behind Superman Returns, 300, Batman Begins and The Lady in the Water) has acquired the rights to make a new live action He-Man movie. We're very skeptical. It doesn't help that The Sun is a tabloid daily newspaper published in the United Kingdom. So the paper isn't exactly considered reputable.
The story goes on to say that Brad Pitt is in the running to play the lead role of He-Man, right ahead of 300 star Gerard Butler.
The He-Man and the Masters of the Universe animated series ran from 1983 to 1985. It later spawned a popular toy line, a 1990 futuristic sci-fi cartoon, a 2002 remake, and a horrible 1987 live action film which stared Dolph Lundgren.
For those of you who don't remember the series, here is a plot description thanks to wikipedia:
Eternia is ruled by King Randor and Queen Marlena. Their son is Prince Adam, a cowardly blond muscleman dressed in a Cote d'Azur chemise. However, Prince Adam possesses a magic sword, and when he holds it aloft and says the magic words "By the power of Grayskull... I HAVE THE POWER!" he is transformed into He-Man, the most powerful man in the universe. He-Man is a brave blond muscleman in a baldric and loincloth.
Most episodes are about Skeletor's repeated attempts and failures to enter Castle Grayskull. He-Man invariably defeats these attempts.
I'm not quite sure He-Man and The Masters of the Universe could be done in today's society without being scoffed and laughed at.