Tribeca Movie Review: Born And Bred (Nacido Y Criado)
The following film was screened at the 2007 Tribeca Film Festival.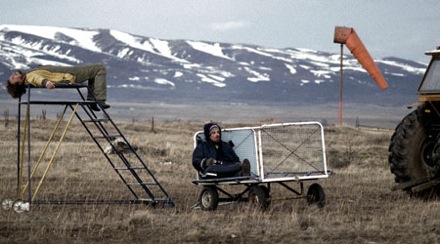 Born and Bred (Nacido y Criado)
World Narrative Competition
2006, Argentina
Dir: Pablo Trapero
When the man who has it all suddenly loses it all, his life can make such an unforeseen shift that not even he is prepared for the outcome. In Pablo Trapero's Born and Bred, the man in this case is Santiago, played with painful resignation by Guillermo Pfening. Santiago, a successful interior designer, is married to Milli, a sleek beauty with a striking onscreen presence. Together, they have a daughter and live a secure life within the decorated walls of their safe haven in Buenos Aires.
Upon insistence from Milli, the trio ventures out on a trip to their country house. Disaster befalls them on their journey, but before the viewer can assess what has occurred, the screen is washed out with the white, desolate landscape of endless plains and snow-capped mountains looming in the background. The bleak environment slowly becomes recognizable; in the distance, figures can be seen trudging along through a thick forest, knee deep in snow, with rifles in hand. We have been transported to the barren locale of Patagonia in southern Argentina, where these figures are on the hunt for loose hares and deer.
Santiago has isolated himself in a grim, abandoned town where he has assimilated a new lifestyle for himself, completely forgoing what he once had. He works alongside Roberto, a haggard slouch, at the local airport.  They try to make some extra cash from hunting for pelts and furs. Santiago has taken on a new existence, but reels in pain from what he left behind. We see him awaken in the middle of night, battling bouts of stomachaches and going through a horrid spell of cold sweats. The only links he attempts to maintain with his past life are the discombobulated phone calls to his family back in Buenos Aires, which are few and far between. Clearly, Santiago is dealing with an event for which he feels ultimately guilty, and cannot bring himself to face those who loved him when he was with them.
Masterfully directed by Trapero, the film employs a stark cinematography, a precise soundtrack, and genius camerawork, as the images move fluidly across the screen, presenting us the story of a broken man. We are aware of the influence the environment has upon Santiago. He locks himself up with his fellow neighbors; men, who like him, for some reason or other, drink to forget and pay no mind to their lowly existence in a town full of "zombies". They are no men stuck in a no land; hermits forever placed under a grey sky with no end in sight. A slow, repetitive pace allows the film to morph into a meditative piece on redemption and reconciliation. Santiago yearns for forgiveness, in some way or other.
A bold film from one of Argentina's new leading filmmakers, Born and Bred is outstanding. A must see.
/Film Rating: 9 out of 10