Spider-Man 3 Shatters ALL Records, Fanboys Strike Back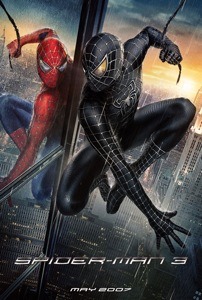 Spider-Man 3 has shattered almost all the records. According to estimates, the film took in over $148 million over it's first weekend, beating Pirates of the Caribbean: Dead Man's Chest ($135.6 million), to become the biggest opening weekend of all time. Spidey grabbed the Friday record with $59.3 million, the saturday record with $51 million (besting Shrek 2), and if the Sunday estimate of $37.7 million is correct, it will also hold the record for biggest sunday gross of all time (again, beating Pirates 2).
Oh, but we're not done. The film also opened on 84 IMAX screens and set a new opening weekend record with $4.8 million, besting 300 ($3.6 million).
And that's just America. The film has already made over $227 million internationally (since May 1st), bringing the film's grand total to $375 million!
But the fanboys are angry. It seems none of them liked the movie. Judging from the internet forums and talkbacks, you would think that everyone hated the film, but that's clearly not true.
According to a studio survey, more than 50% of moviegoers sampled said "Spider-Man" was better than the first two films in the franchise. And the film is currently getting a very respectable 7.1 rating on the Internet Movie Database (with almost 20,000 votes thus far). And let me remind you that the first Spider-Man is getting a 7.4, so it's not that far off.
FilmSchoolRejects has an interesting article chronicling the fanboy backlash. Although, I must warn you, they were extremely negative on the film so the article may be a little biased.
Charlie and the Chocolate Factory screenwriter John August has a VERY INTERESTING article on the film's problems from a writers perspective. One of the big things I harped on in my review was the "convenient coincidences". August has turned this facet of the movie into a film school lesson that no aspiring screenwriter should miss.
Cinematical has an interesting article on how they could have made Spider-Man 3 better.