Spider-Man 3 Already Sold Out In Over 100 Movie Theaters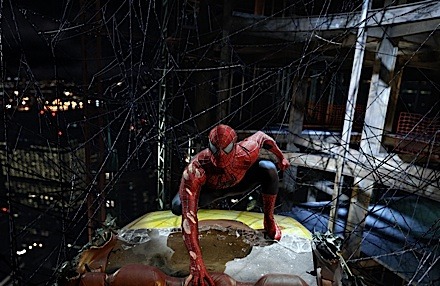 Update: More than 300 of the approximate 1,000 Thursday midnight Spider-Man 3 show times on Fandango were sold out online.
As of 10:00am on Thursday morning, more than one hundred midnight shows for Spider-Man 3 have already SOLD OUT, according to the popular online movie ticket website Fandango.com. On top of that, many theaters (including IMAX screens) have decided to add 3:00am screenings to appease fans that need their Spidy fix. As of this morning, Spider-Man 3 has accounted for 95% of Fandango's weekly ticket sales.
The Users of BoxOfficeMojo are predicting that the film will make #133.2 million in it's first weekend. That number is only a few million shy of Pirates of the Caribbean: Dead Man's Chest's record of $135.6 million.
Meanwhile, BoxOfficeGuru is predicting that the film will make "into the friendly neighborhood of $140M over the Friday-to-Sunday span this weekend."