David Yates Will Direct Harry Potter And The Half-Blood Prince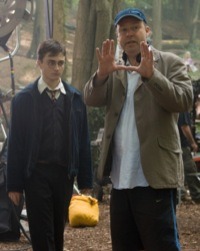 I'm not quite sure how this is news, since even IMDb has him listed, BUT David Yates has confirmed that he will by directing Harry Potter and the Half-Blood Prince.
"I am doing Half-Blood Prince, and I'm doing it because I love the world, I love the characters," Yates told SciFi. "I think I have more business with this world and these characters."
Yates is best known for doing a couple UK miniseries, and of course, Harry Potter and the Order of the Phoenix, which hits theaters on July 13th. One mut admit that Yates is the least experienced Harry Potter director to date. I mean, it's hard be the follow up to Alfonso Cuarón and Mike Newell. This has caused many fans to worry about his adaptation of Order. And I'm sure Warner Bros wouldn't have signed the director if Order wasn't shaping up to be a good film. But one could also wonder how Chris Columbus got signed up for a second film after his lackluster direction of the first.