Superbad Red Band Movie Trailer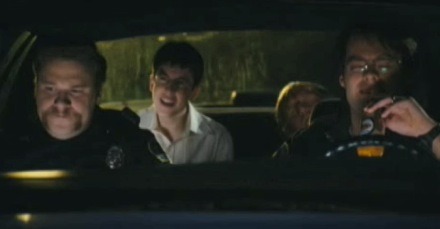 A couple days ago we posted the theatrical trailer for Superbad. While we had obvious problems with the outright claims of being "from the guy who brought you 40-Year-Old-Virgin", we thought the comedy had promise. Some of you didn't agree. It's funny how much things can change when you go from Green to Red.
Someone sent us the Superbad Red Band trailer. What is a red band trailer you ask?
Normal movie trailers begin with a green band, an all-green graphic at the beginning of the trailer, usually reading "The following PREVIEW has been approved for ALL AUDIENCES by the Motion Picture Association of America." This signifies that the trailer adheres to the standards for motion picture advertising outlined by the MPAA, which includes limitations on foul language and violent, sexual, or otherwise objectionable imagery. Trailers that do not adhere to these guidelines may be issued a red band, and may only be shown before an R-rated, NC-17-rated, or unrated movie.
Okay so let's check out the red band trailer for Superbad. Be warned, the structure of the trailer is much like the green band trailer, but with the R-rated cuts (mostly language related). Check out the new trailer after the jump.
Sony has requested that the Red Band Movie Trailer be removed from /Film due to an order from the MPAA. Click Here to Learn how to Gain Access To Red Band Movie Trailers.
Allison Scott is an up-and-coming entertainment journalist whose 24-year-old life is on the fast track. But it gets seriously derailed when a drunken one-nighter with slacker Ben Stone results in an unwanted pregnancy. Faced with the prospect of going it alone or getting to know the baby's father, Allison decides to give the lovable doof a chance.
Superbad follows two co-dependent high school seniors who are forced to deal with separation anxiety after their plan to stage a booze-soaked party goes awry. Jonah Hill (Accepted, Knocked Up) and Michael Cera (Confessions of a Dangerous Mind) star.