Tribeca Movie Review: Brando
The following movie was screened at the 2007 Tribeca Film Festival.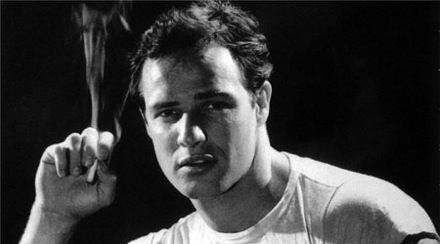 Brando
Special Event, Documentary
2007, U.S.A.
Dir: Leslie Greif, Mimi Friedman
It's hard to believe that a man who established such a resonant and respected legacy within the world of film has been gone for three years already. Marlon Brando was the benchmark for acting in his lifetime. There was acting before Brando and there was acting after Brando. His influence can be seen in the actors considered to be his peers, spanning all the way to the actors getting work today. No one is safe from Brando's awesome dominion.
This epic documentary pays homage to the life of a man recognized the world over for his impressive and diverse amount of characters portrayed. In typical bio-doc fashion, the film traces Brando's timeline, beginning with his inception in Nebraska, through his years as a stunning young stage actor, to revered veteran actor, to family man, and in the end, worn down human being. In almost three hours, we get to see and know everything we ever wanted to about Brando, including his screen test for Rebel Without A Cause.
An extremely personal man who hated acting and regarded it as merely an unimportant task, Brando lived his life according to his own rules and mantras. He did what he wanted and how he wanted, and flushed out all his emotions onto the screen in his breathtaking performances. Having worked with some of the most important filmmakers of his time, such as Elia Kazan, Francis Ford Coppola, and Bernardo Bertolucci, Brando produced a monumental amount of work that is considered an important addition to the library of classic cinema. He will go down as one of the greatest actors in the annals of film history.
A wide variety of interviews with close friends, fellow actors, producers, and actors who looked up to him, the film bears down upon the viewer in recounting the life of a genius. At times longwinded and drawn out, the film seems interminable at times, but all for the glory of Brando. We see how his career flourished in the 1950's, gaining him an Oscar for his performance in On the Waterfront, and then see how he decided to take more unconventional roles in the 60's, almost single-handedly ruining his career.
And then the rebirth of Brando in the 70's appears, as he gets picked for the role of a lifetime as Don Vito Corleone in The Godfather. A time of important films for Brando, the 70's gave him back the reputation he was known all along for.
Despite the intrusive length, the film paints a vivid picture of one of the greats. A man who truly was the sign of greatness, Brando will always go down in history for his accomplishments, and this film can only help in cementing his legacy in the minds of filmgoers all over.
/Film Rating: 8 out of 10