Tribeca Movie Review: Invisibles
The following movie was screened at the 2007 Tribeca Film Festival.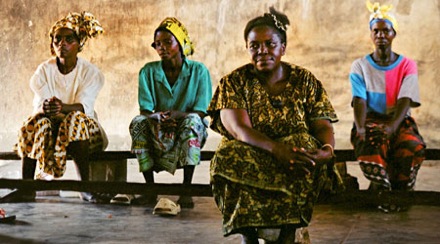 InvisiblesSpotlight Narrative
2007, Spain
Dir: Wim Wenders, Isabel Coixet, Fernando León de Aranoa, Javier Corcuera, Mariano Barroso
The Doctors Without Borders organization sponsored this five-piece documentary on atrocities being committed and inflicted upon the underrepresented and poverty stricken around the world. These five filmmakers each create a heartbreaking vision of the state of affairs currently seen throughout towns and villages destroyed by war, famine, disease, and chaos. Focusing on individuals in Barcelona, the Congo, Uganda, the Central African Republic, and Colombia, the five shorts relate the painful conditions that these people are living in and all the agony they have suffered.
Isabel Coixet's film depicts the story of a Bolivian immigrant living in Barcelona, trying to take advantage of opportunities not offered to her back home. Working as a maid and nurse, the immigrant's family is back home in Bolivia, being torn apart by disease and lacking aid from the government. They are forgotten because of their destitute position in life.
We are then taken to the Congo, where several women recount their horrid tales of rape and punishment under the rebel forces during their country's civil war. These shocking stories are exposed in all their dark reality to the viewer, as Wim Wenders lets the ladies recall their experiences as a call to arms for change.
Fernando León de Aranoa recounts the tale of young boys and girls, orphaned due to the civil war in Uganda, that are preyed on by the rebels to join them and commit terrible violent acts. The children, aimed at because of their malleability and ease in training, live a life of constant fear of being kidnapped and loathe the prospect of even sleeping at night. However, there is a safe haven called Noah's Ark set up by local activists, where the children arrive every night to sleep and be protected.
The fourth film, by Javier Corcuera, is a dramatized account of a big bad pharmaceutical company stepping on the afflicted people of the Central African Republic by not developing medicine they desperately need.
And the last film, by Mariano Barroso, focuses on the displaced people of a nation under constant warfare, Colombia. The survivors of years and years of upheaval narrate their heart-wrenching stories, while demonstrating great amounts strength at having survived for as long as they have.
A necessary project produced by Javier Bardem, Invisibles reaches the goal it aimed for, even if it eventually harshes the mellow of many who see it. One leaves the theater as if they had been punched in the stomach and kicked in the face. Not a film for everyone's tastes.
/Film Rating: 7 out of 10