Tribeca Movie Review: A Walk Into The Sea: Danny Williams And The Warhol Factory
The following movie was screened at the 2007 Tribeca Film Festival.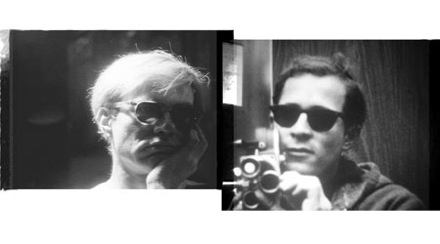 A Walk Into the Sea: Danny Williams and the Warhol Factory
World Documentary Competition
2006, U.S.A
Dir: Esther B. Robinson
The infamous and enigmatic Any Warhol accrued many a hanger-on during his career, and most notably, during the Factory Years. While the Factory raged on, many of those that found themselves in his tight nit crew laid claim to being artists as well. With all the fame and popularity Warhol was accumulating at that point in time, its no wonder that everyone around him was also trying get a piece of the prize. A Walk Into the Sea examines the life of one such person who floated around Andy during those days, but was never given the attention he desired.
Danny Williams was a clever young man who had recently graduated from Harvard and had moved to New York in the late 60's when he became acquainted with Andy and the rest of the bunch. There, he aided Andy in his performances by creating complex electronic setups and was responsible for all the psychedelic lighting going on at the shows. He was also an avid camera enthusiast and shot several shorts, which were never praised in their day.
The film acts as a sort of tracking device for director Esther B. Robinson, the niece of Danny Williams. One holiday weekend, Danny went back home to visit his mother in Massachusetts. Upon finishing dinner, he went out for a drive and was never seen again. This was over forty years ago, and Robinson uses the film to try and uncover the secret to her uncle's life, and why the connection to Warhol and the rest might prove to be extremely important.
Amid a slew of interviews with Factory regulars Brigitte Berlin, Don Nameth, Chuck Wein, Paul Morrisey, and ex-Velvet Underground John Cale, we see a fragile attempt at trying to reconstruct the life of a man of which we, as the viewer, know little or nothing about. And to a certain degree, should we even care?
The film gives no indications as to who this man really was. We know he was madly in love with Andy and that, like every other artist Warhol came into contact, was taken advantage of for his artistic ideas. We know as much about this man as his niece does, which is understandable. She wants to get to the bottom of this man's disappearance, but she doesn't even know whom he is. And in the end, this feeling of confusion climbs over the viewer as well. The viewer is lost. Not enough information is given on this, a secondary member of Warhol's troop, of which there were way too many to even keep track of.
Danny Williams is doomed to fall into that same category in which Edie Sedgwick is a part of: the sad group of periphery individuals making a comeback in today's pop culture-referencing society because of their ties to a recognized and important figure. One gains nothing from watching the film.
/Film Rating: 3 out of 10