Breaking: Former MPAA President Jack Valenti Is Dead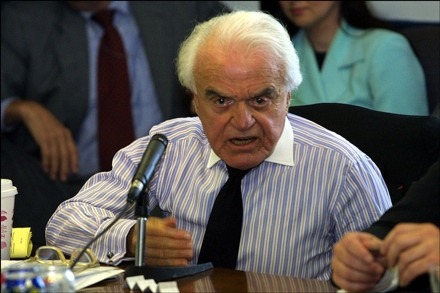 Jack Valenti, an influential American lobbyist and a long-time president of the Motion Picture Association of America, is dead. According to DHD, Valenti died after falling into a coma following a series of strokes. The former MPAA President checked out of Johns Hopkins University Medical Center earlier this week after being hospitalized since March after a stroke. No further information is being released. No official announcement has been made. Valenti was 85 years old.
In 1968, Valenti created the MPAA film rating system. During the late 1970s and early 1980s, During his 38 year tenure in the MPAA, he was generally regarded as one of the most influential pro-copyright lobbyists. Valenti became notorious for his colorful attacks on the Sony Betamax VCR, which the MPAA feared would devastate the movie industry. He famously told a congressional panel in 1982, "I say to you that the VCR is to the American film producer and the American public as the Boston strangler is to the woman home alone."
He was also a lobbiest for the controversial Digital Millennium Copyright Act, and famous 2003 Academy Awards screener ban. Valenti most recently was one of the targets of the documentary film This Film Is Not Yet Rated. Valenti retired as head of the MPAA in August 2004. Valenti's memoir, This Time, This Place: My Life in War, the White House, and Hollywood comes out in June.
Updates:Variety has since confirmed this story.The Hollywood Reporter have also released an article.
The MPAA Chairman & CEO Dan Glickman has issued a statement.