Tribeca Movie Review: Bomb It
The following movie was reviewed at the 2007 Tribeca Film Festival: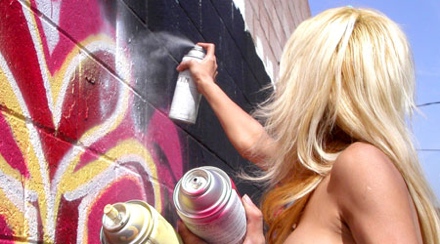 Bomb It
World Documentary Competition
2007, U.S.A.
Dir: John Reiss
Coming at you with lightning speed, Bomb It explodes onto the screen, heralding its arrival and offering a heaping dose of invigorating energy surrounding the world of graffiti, and how that world is split up and examined. Globetrotting to some of the most sprawling metropolises on the planet, such as Tokyo, SÃ¥o Paolo, New York, London, Capetown, and Berlin, the film is a nonstop study on what makes graffiti what it is and why it's still ticking today.
Tracing its roots from the rock paintings of ancient times, to its first modern manifestation on the urban streets of Philadelphia in the early 70's, all the way through its evolution as social commentary on the streets of Paris today, director John Reiss gives a vivid account of this flourishing art form. The film states that at no other point in time have young people had such a strong and visible role in determining the aspect of their surrounding space. And all this with graffiti.
Interestingly, the distinct styles of graffiti can be seen in each and every country visited, and what's even more impressive are the meanings that each individual around the globe ascribes to his or her own graffiti, and what aims they use their art for. Some use it for subversion, others for expression, and for some it is a way of life. What is clear though, is the ability of graffiti to transcend the commonplace and everyday environment into a world of unexpected possibilities and hidden beauty.
Graffiti is viewed as living art, and the film superbly examines this notion, employing the use of interviews with public officials against the art form, as well as with the artists who breathe, eat, and sleep graffiti. Both sides of the spectrum are presented, but the film most definitely celebrates the art form and does declare it as "art", while its detractors view it as ugly and petty vandalism.
A final portion of the film takes a glimpse on the rise of graffiti's commercialization and its unfortunate consumption by the corporations. Big conglomerates have been quick to exploit the movement for all its apparent moneymaking opportunities, using graffiti as a style to sell whatever they feel they can get away with. Underground graffiti artists view those who put up their work in galleries as phonies. For them, the true essence of graffiti is the maintained balance between anonymity and recognition. Selling out for the world to see does not fall into their agenda.
A fast paced documentary that fully enlightens the viewer on all the intricacies of the graffiti world, this film does not disappoint. It will hold your attention throughout.
/Film Rating: 9 out of 10