Roberts Joins The Dark Knight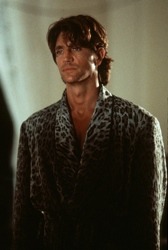 Eric Roberts has been cast in the Batman Begins sequel, The Dark Knight, according to the LA Daily News. Roberts will play Sal Maroni, a major mob competitor with Carmine Falcone, who was played by Tom Wilkinson in the first film. Both characters appeared in The Long Halloween, a 13-issue comic book limited series written by Jeph Loeb with art by Tim Sale, that is said to have inspired The Dark Knight's story-line. If you haven't read The Long Halloween, GO BUY IT NOW!
The actor is best known for his roles in the hit television series Heroes and The L Word. Roberts is the brother of Julia (Oceans Eleven), and father of Emma (Nancy Drew). The Dark Knight is currently shooting in Chicago and will hit theaters on July 18, 2008.